African Continental FreeTrade Zone : Deepening Economic Integration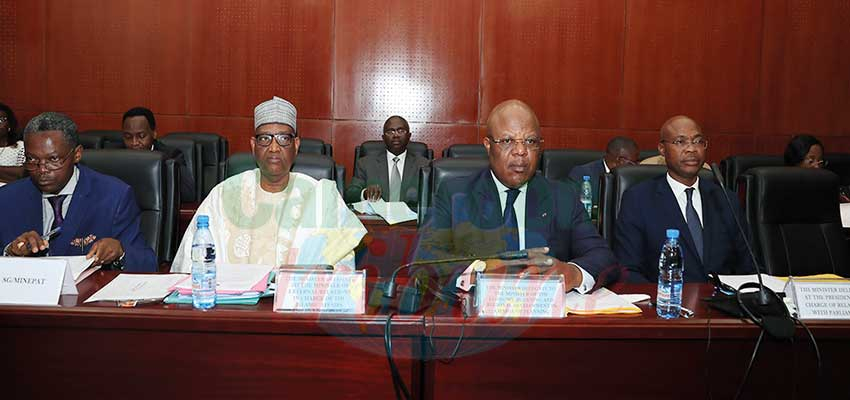 A single market for goods and services will boost continental growth.
The legal instruments of the bill has the objective of boosting intra-African trade in goods and services through the progressive elimination of tariffs.
Within the perspective of deepening African integration by establishing a single market for goods, services, investments, intellectual property rights and the movement of people across the continent, the Minister Delegate to the Minister of the Economy, Planning and Regional Development, Paul Tasong defended bill No 123/PJL/SEN/2L to authorise the President of the Republic to ratify the Agreement establishing the African Continental Free Trade Zone (ACFTZ) signed on March 21, 2018 in Kigali, Rwanda by African Union member States. He was assisted by the Minister Delegate to the Minister of External Relations in charge of Cooperation with the Islamic World? Adoum Gargoum as he presented and defended the bill before the Foreign Affairs Committee of the Senate on June 24, 2019 in the presence of the Minister Delegate at the Presidency in charge of Relations with the Assemblies, Bolvine Wakata.
Minister Tasong told committee members that the Agreement which was signed in Kigali marks a new phase on the African Union's path to greater integration and its ratification by Cameroon will help to foster South-South cooperation, capture new markets, optimise customs revenue and diversify sources of supply. The Agreement, the Minister Delegate stated, comprises a preamble and four legal instruments which are the institutional framework, the protocol on trade in goods, the protocol on trade in services and the protocol on rules and procedures on the settlement of disputes. Paul Tasong noted that the Agreement has legal binding principles and targets broadening as well as strengthening economic cooperation in the continent which will speed growth. "The Agreement opens Cameroon to a bigger market. Cameroon is in the eyes of macroeconomists a country of about 25 million consumers but a continental free trade area opens up Cameroon to a bigger market of more than a billion consumers. And I think that is a very good thing as it widens the possibilities of trade and growth. It will also boost intra-African trade in goods through the progressive elimination of tariffs, the dismantling of non-tariff barriers and the facilitation of trade and transit," he explained. The commitment to implement this Agreement, it should be recalled, was expressed at the African Union Summit in Nouakchott during which the continent's commitment to finalise the ratification phase within a reasonable timeframe was reaffirmed.
Related Articles