« ELECAM Is Really Prepared For The Elections »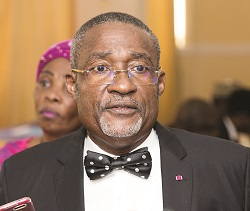 Enow Abrams Egbe, "The period for the revision of the electoral registers is not amendable".
Enow Abrams Egbe, Chairman of the Electoral Board of Elections Cameroon (ELECAM).
How far has Elections Cameroon gone with the operation to register 10 million voters in Cameroon?
The registration of 10 million voters is a long term projection. What ELECAM is opting to do is to go to the level of 7 million voters at this period of the year. The 10 million voters was our ambition and should not be confused with the registration for 2019. The bill to extend the term of office of Members of the National Assembly for a period of two months starting from October 29, 2019 is being debated at the National Assembly.
How will it affect the ongoing revision of the electoral registers and electoral process?
Do not get things confused. The revision of the electoral registers starts on January 1 and ends on August 31every year as provided for in the Electoral Code. It is not amendable. It is the law. Other modifications on the electoral calendar will come with the extension of the terms of office of municipal councillors and Members of the National Assembly.
How far is Elections Cameroon preparing for these elections?
This far, we are practically in the midway. We are really prepared. That is why we are here for the second ordinary session of the Electoral Board of ELECAM for this year. We are putting all hands on deck to make sure that things work. ELECAM intends to go to the field to verify exactly the situation on the ground. At the level of headquarters we are ready for the elections.
What special measures to ensure that internally displaced persons register and vote in the upcoming elections?
All necessary measures have been taken not only for this year. During the October 7, 2018 presidential election, a lot of efforts were made to bring those displaced persons to be registered in the areas where they were found. We have improved on that thus far.
Related Articles