2019 Sports Season : Beautiful End In Yaounde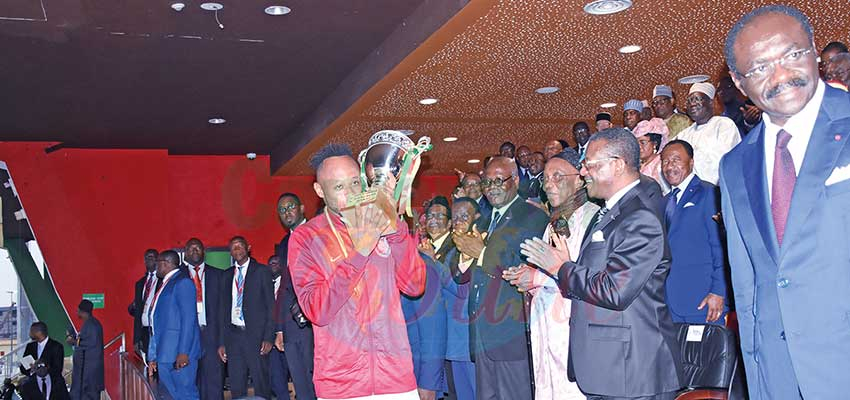 Prime Minister Dion Ngute handing over trophy to captain of Stade Renard de Melong.
The Sports movement and the population used the event to celebrate sports excellence and demonstrate strong commitment to national unity.
The closing ceremony of the 2019 Sports season in Cameroon on June 30, 2019 will for ever be remembered as one in which the sports movement in the country celebrated sports excellence and through the various displays by four groups representing the cultural zones in Cameroon and messages in banners showcased commitment to national unity, cohesion and living together.
What will also remain historic about the event was the fact the Prime Minister, Head of Government, Chief Joseph Dion Ngute appointed during the government formed on January 4, 2019 chaired the closing ceremony in the Yaounde Omnisport Stadium in his capacity as the representative of the President of the Republic, Paul Biya. The sports season in Cameroon this year 2019 took place in an usual period as it came six months before the habitual period to the organisation of the event that hitherto took place in the month of December. The Minister of Sports and Physical Education, Professor Narcisse Mouelle Kombi explained that, "This unprecedented posture reflects the desire of the national sports movement to take a positive step by matching to modern and international sports standards.
And so, it came to pass that the 60th edition of the Cameroon Football Cup Final, a major activity that crowned the closing ceremony of the sports season was played by complete newcomers who were Stade Renard de Melong from the Littoral Region and the Armed Forces and Police Football squad of Yaounde (AS FAP). The arrival of the Prime Minister at the Omnisport Stadium signalled the peak of the communion as it set the ball rolling for the activities. He was received as he alighted from the car by the Minister of Sports and Physical Education, handed a welcome bouquet of flowers and inspected the mounted guard of honour. After this, he was presented the heads of the 52 sports federations in Cameroon who received his encouragement handshakes. Delegations of the sports federations paraded at the stadium. This was just to set the stage for displays by groups representing the Grass Field, Sawa, Fang-Beti and Soudano-Sahelian cultural zones in Cameroon. The groups displayed in a concrete manner, living together, national cohesion and national unity. During their display, mobilisation messages were also showcased in banners. Some of them read, "We are Cameroonians in heart, body and soul", "Anglophones, Francophones, Sawa, Fang-Beti, Grass field and Soudano-Sahelien, we are a strong and proud Cameroon."
Then came the most awaited movement being the Cameroon Football Cup final in which Stade Renard de Melong beat AS FAP of Yaounde 3-2. After the match, the Prime Minister handed over trophies and medals to the winning clubs and individuals of the various sports federations.

Related Articles