Bamenda : SDF National Chairman Freed After Abduction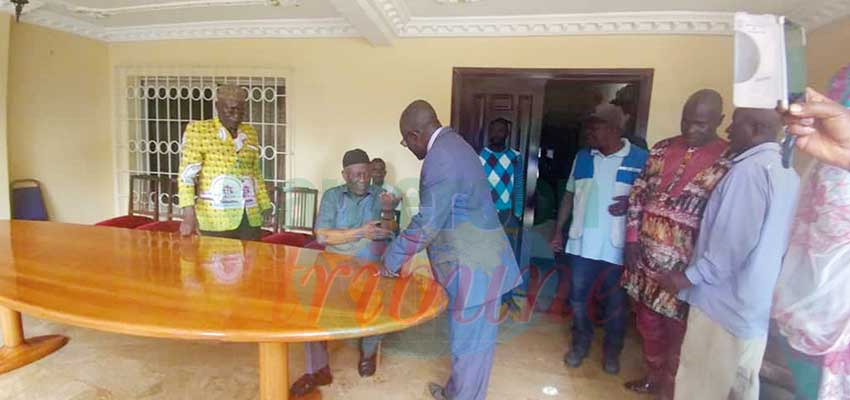 Ni John Fru Ndi (sitting down) explaining to curious sympathisers his ordeal when in custody.
Kidnapped on Friday June 28, 2019 for a second time, John Fru Ndi was liberated 48 hours after what has been condemned by all and sundry.
The National Chairman of the Social Democratic Front (SDF) party, Ni John Fru Ndi who was kidnapped on June 28 has been released. He was released on June 29. 2019 after spending 48 hours in the custody of the unidentified gunmen dressed in civilian outfits. The news of his release emerged as a relief to family members and SDF party sympathisers. The city was not at ease given that Ni John Fru Ndi was abducted barely few hours after he was discharged from the hospital (Mbingo Baptist Hospital) where he was undergoing medical attention.
It was the second abduction the SDF Chairman was unfortunately experiencing. He was first taken into captivity on April 25, 2019 on his way to Kumbo, Bui Division to bury the former SDF Parliamentary Group Leader, Hon. Joseph Banadzem. Following his release, family members, party members, friends and some Christians visited the residence of Ni John Fru Ndi on Sunday June 30, 2019 to cheer him up. It emerged from him that in the face of the ongoing sociopolitical and security crisis rocking the North West and South West Regions, his abductors want him to cause all SDF MPs and Senators to withdraw from the National Assembly and the Senate. It is against this backdrop that his SDF party and family members have condemned the disrespect for him (Ni John Fru Ndi), a politician and father whose selfless contribution to the wellbeing of the nation has been recognised especially his non-violent approach in fighting for social justice for all. Separate press releases seen on social media from the SDF Secretary General, Senator Jean Tsemelou and Fru Ndi's family are convinced that Cameroon's problems cannot be solved by abductions. One of the National Chairman's body guards who was shot on the leg in the process of abducting him was receiving treatment at press time.
Related Articles