Central African Forests Commission:Cameroon's Chairs Council of Ministers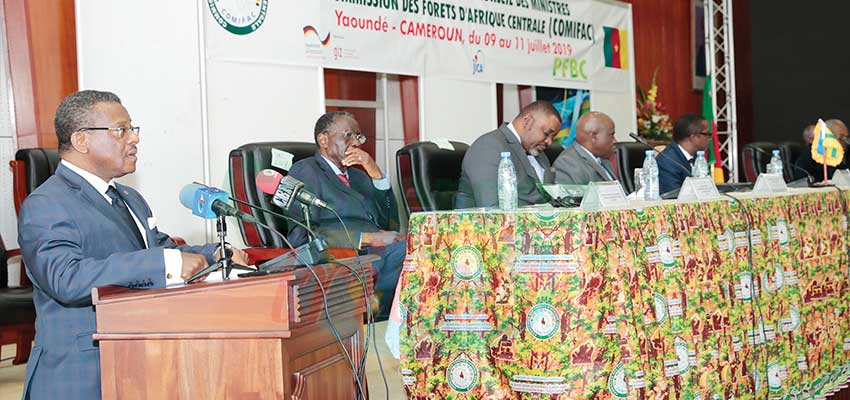 Prime Minister Joseph Dion Ngute opening the COMIFAC Council of Ministers session
The Minister of Forestry and Wildlife, Jules Doret Ndongo took over as the Chairperson of the COMIFAC Council of Ministers during the 10th session in Yaounde on July 11, 2019.
Cameroon's Prime Minister, Head of Government, Chief Dr Joseph Dion Ngute on July 11, 2019 chaired the opening ceremony of the 10th ordinary session of the Council of Ministers of the Central African Forests Commission (COMIFAC) during which the country's Minister of Forestry and Wildlife, Jules Doret Ndongo took over as chairperson of the Council for the next two years. The Prime Minister watched the outgoing chairperson of the COMIFAC Council of Ministers, Rwanda's Minister of Lands, Environment, Forestry, Water and Mines, Vincent Biruta hand over attributes and the COMIFAC flag to his successor Jules Doret Ndongo. COMIFAC is the principal political and technical forum for guidance, coordination, harmonization and decision-making in the conservation and sustainable management of forest and savannah ecosystems in Central Africa. In his opening speech, Prime Minister Joseph Dion Ngute stated that COMIFAC was created 20 years ago under the initiative of President Paul Biya of Cameroon who in 1999 summoned the Heads of State meeting of the Central African States during which the Yaounde Declaration creating the organisation was made. He said that since then, Cameroon has deployed a lot efforts to ensure that COMIFAC functions and fulfils its missions of sustainable management of the forest ecosystems of the Congo Basin and ensure better living conditions of the population. To this end, he cited the building of the COMIFAC headquarters in Yaounde estimated to cost FCFA 7 billion and added that the headquarters agreement has already been signed between COMIFAC and the government. He said Cameroon has been faithful in paying its financial contributions.
The Prime Minister urged the Ministers to use the 10th session of their Council that is dedicated to evaluate the financial situation of the institution to deepen reflection on how to install management that creates impact.
Talking to the press after taking over as the chairperson of the COMIFAC Council of Ministers, Minister Jules Doret Ndongo focused on the challenges awaiting him. He said he will oversee the execution of the classical missions of COMIFAC which are sustainable management of the natural and forestry resources and wildlife, as well as the preservation of the ecosystems of the Congo Basin. He plans to continue with ongoing projects and seek ways of ensuring that member States pay their financial contributions. He will also focus on ensuring the proper functioning of the executive secretariat and search for finances and means to tackle emerging issues such as deforestation and fight against poaching. Mr Doret Ndongo will more importantly oversee the implementation of the COMIFAC Convergence Plan that has the vision of sustainable and joint management by Central African States of their forest resources for the wellbeing of their people, the preservation of biodiversity and the protection of the global environment.
Related Articles