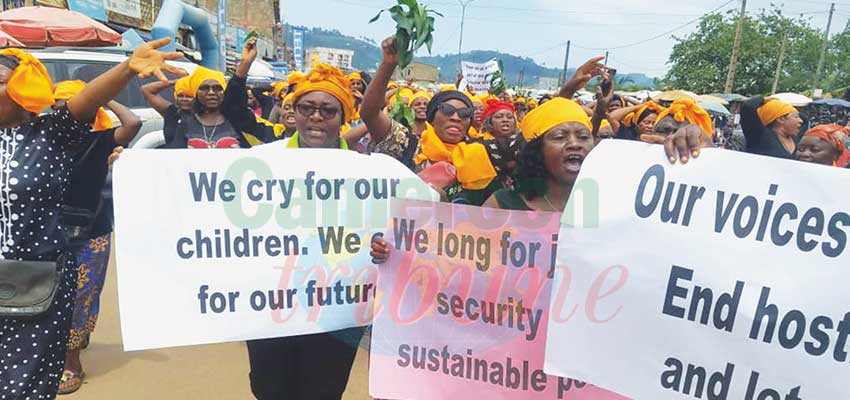 They stand for massive school resumption in September 2019 in NW/SW Regions.
They are calling on all stakeholders to respect and uphold the fundamental rights of children to education and protection.
The South West and North West Regions Women's Task Force (SNWOT) has through a press release called for a massive back to school come September for the academic 2019/2020 throughout the North West and South West Regions of Cameroon. In a six key note points contained in the communiqué, they regretted the setbacks to pupils and students in the North West and South West Regions following sociopolitical upheavals that led to ghost schools. One of the points on the press release indicated that three years of no school have been enormous sacrifice and the message cannot be underestimated. Another point indicated that North West and South West Regions will be missing out in the achievement of Sustainable Development Goals (SDGs) 4 on education and related commitments. There was also a cry that children are being exposed to all kinds of malpractices which include drug abuse, sexual exploitation, child marriage, early pregnancy due to no school etc.
Omam Esther Njomo, Coordinator of SNWOT who signed the press release on July 11, 2019 told Cameroon Tribune that pupils and students in the North West and South West Regions should know that it is their right to be educated so that they can improve on their human intellectual and other commitments. "The future of every nation belongs to the youth. Education is the key to any sort of empowerment. This is the reason why we want pupils and students to go back to school so that tomorrow, they will not blame us their parents for having neglected their education," she said. Omam Esther Njomo also called on parents not be scared, for it is their duty and obligation to ensure that children go back to school. Adding that SNWOT knows safety is a prime concern and they are working to see how they can guarantee safety. The press release ended by calling on all stakeholders to assume their responsibi lities accordingly and uplift ban on education, caution their fighters to stop attacking academic institutions as well as teachers, pupils and students. The press release also highlighted the need to ensure the security of pupils and students by ending hostilities and providing an enabling condition for safe schooling in the North West and South West Regions.
Related Articles