2019 African Nations : Serenity In The Lions' Den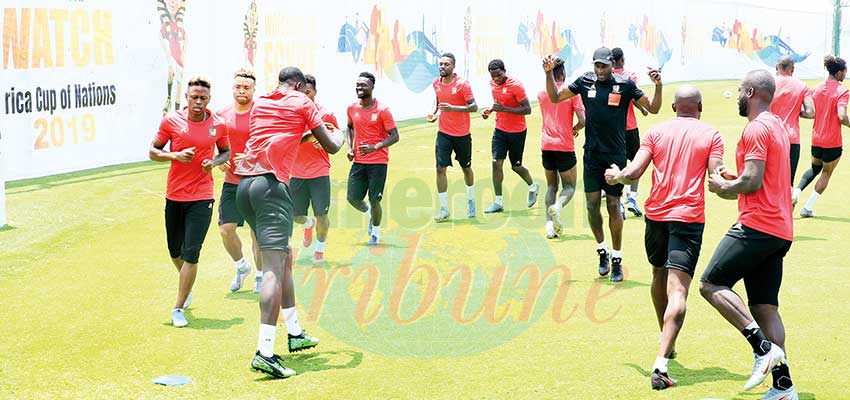 The Indomitable Lions are ready.
Their next mission will be against the Black Stars of Ghana tomorrow.
In less than 24 hours, the Indomitable Lions of Cameroon will make their second outing at the 32nd edition of the African Nations Cup competition in Egypt. This time, it will be against the Black Stars of Ghana. In the Lion's den, there is total calm and serenity among the players and officials. After a series of one-to-one video
screening and training in the gym yesterday, the Lions had a walk around the hotel vicinity during which they cracked jokes and narrated several anecdotes amongst them. The next phase of their activities was an in-camera meeting among the players. Though no official information filtered from the meeting with regards to the vibes, a source who asked not to be named, told Cameroon Tribune reporter that the meeting was aimed at making an "auto critique" of their performance and discipline.
A victory on Saturday will hand the current African champion a knockout ticket even before their last group game against Benin. Prior to yesterday's meeting, the players have been very optimistic about their next match against Ghana. For striker Clinton Njie, "The match against Ghana is going to be a different ball game considering the fact that Cameroon has eliminated Ghana twice, in 2008 and in 2017. We saw them play on Tuesday against Benin, it is going to be a difficult game. I don't know if they are coming with a spirit of revenge, what is important is that we are here to defend our title, to give our best", the striker added. Defensive midfielder Arnaud Djoum who was also very instrumental during last Tuesday's victory said, "the tournament is very long and I think we are going to take game after game. The most important thing is for us to stay united as we have done so far and play our game. Against Ghana we are going for a win". Tomorrow's encounter at the 18, 525-capacity stadium in Ismailia, is not the first confrontation between the Indomitable Lions and the Black Stars. Soccer records hold that both countries have clashed five times at the final phase of the competition with Cameroon grabbing two victories, two draws and a defeat. At press time yesterday, the Lions were expected to have their last training session for the day.
Related Articles