Zone Two Africa Weightlifting Championships:Cameroon Grabs Eight Medals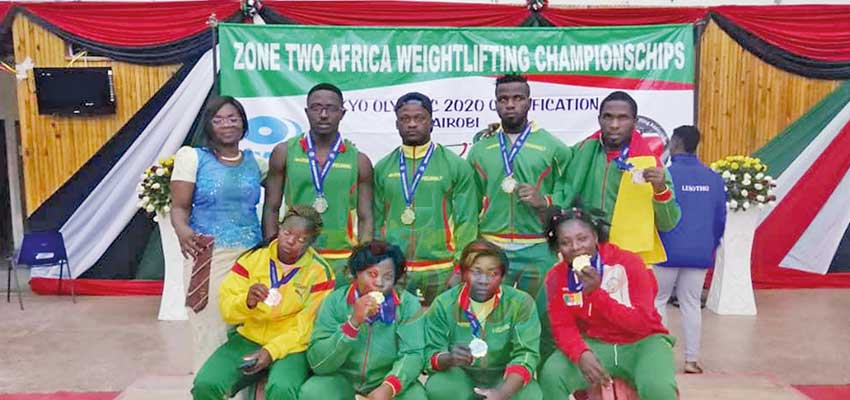 The athletes need more competitions to qualify for the Olympic Games.
The competition ended in Nairobi, Kenya, yesterday July 11, 2019.
Cameroon weightlifting team is back in the country after participating in the Zone Two Africa Weightlifting Championships that ended in Nairobi, Kenya yesterday July 11, 2019. Organised by the Africa Weightlifting Federation, the competition brought together the best weightlifters on the continent. Cameroon was represented in the competition by nine athletes. For five days weightlifters from Africa displayed rich talents in the sport.
The athletes competed in various categories in weightlifting. At the end of the competition, Cameroon bagged home eight medals; seven gold, one silver and also two trophies. In the women's 81kg Raissa Ndjifack was the first. In the 87kg Commonwealth bronze medalist, Clémentine Meukeugni, was the strongest. In the 76 kg Eyenga Mbo'ossi won gold. In the 87kg Adele Momeni was the champion. In the men's competition, Ahmed Njoya won gold in the 94kg, Cedric Feugno won gold in the 85kg and in the 109kg Junior Periclex Ngadja was the strongest. In the 81 kg category, Jean Baptiste Yanou won silver. One of the athletes, Essama Owona did not win any medal in the competition.
Prior to the departure, the Cameroon athletics team trained intensively in their hideout in Yaounde to ensure the best performance. They trained twice a day from 9:30 a.m. to 11:30 a.m. and from 3:00 p.m. to 5:00 p.m. Sources close to the team say the athletes trained till the day of their departure for Nairobi. Our source said the objective is to qualify the young team for the Olympic Games. The Zone two Africa Weightlifting Championships is also a qualification tournament for the 2020 Tokyo Olympic Games. The athletes are expected to compete in six tournaments to win points ahead of the games. Cameroonian athletes have already taken part in three competitions. Three more competitions are still left to decide which athletes will qualify for the Olympic Games. The championship took place under the instructions of the International Weightlifting Federation.
Related Articles